Among the final, stylistically sumptuous shows I covered for The Boston Globe back in 2011 before lighting out for new adventures, writing and otherwise, was a memorable concert by the enigmatic band named after a steam-powered dildo in William S. Burroughs's iconic novel, "Naked Lunch." The show, held September 28, 2011, was the opener of a three-night stand at the Wang Theatre in Boston.
As many music fans know by now, Walter Becker, who died at age 67 Sunday, was a bassist, guitarist, songwriter, and the co-architect of the decidedly electric (rather than steam-powered) Steely Dan, the band he co-founded with his friend Donald Fagen (the band's only other permanent member) whom he met at Bard College 50 years ago, in 1967. (In fact, the band's semi-autobiographical 1973 single, "My Old School," taken from the band's "Countdown To Ecstasy" album, chronicles an unseemly, real-life drug bust at the school involving both future Dans).
During its initial eight-year recording run together, Steely Dan ran the gamut of sophisticated, impeccably tailored and minutely detailed rock music. The lyrics and storylines veered adroitly from a wry to withering sensibility. Because it was intelligent and often opaque and esoteric in approach, it was sometimes labeled "jazz-rock." Taken as a whole, the songs were visual as well as aural vignettes of the less savory aspects of the human condition: acerbic chronicles that pointedly addressed — to quote my original review below — compromise and aging ('Reelin' In The Years'); spectacular self-destruction ('Do It Again'); and hollow self-absorption ('Show Biz Kids'). Much of this loveliness was set to cheery brass charts, elastic grooves, and Fagen's knowing sneer.
Occasionally, over the years, all three of the above descriptors were applied to Steely Dan themselves by various critics and listeners expecting either too much or too little. Seemingly impervious to (or emboldened by) the barbed slings and arrows that ultimately fell impotent to their insular, high-walled castle of creation, The Dan shrugged, smirked, and gazed down at the detritus floating in the moat below.
They even prominently displayed a sample of some of the more disagreeable opinions regarding their musical proclivities in the accompanying booklet to their 1993 album-spanning (1972-80) box set, "Citizen Steely Dan." 
"Dangerously close to the Valium-jazz that has enervated so much of today's pop music," wrote the L.A. Times. "They describe their music as junk sculpture and I won't argue with that," opined Let It Rock.  "Sounds like it was recorded in a hospital ward," quipped onetime New York Times critic Robert Palmer.
There was more, but you get the idea. Then, as always, a dark humor and snarky spirit lurked under Steely Dan's magnificent – and deceptively slick — and well-produced sheen. Even their damn box set.
While seeming, at first, like a shiny "pop" bauble on the outside  — and yes, much of Steely Dan's best stuff certainly was immaculately crafted pop music that became a staple of AM and FM radio playlists ("Rikki Don't Lose That Number"; "Peg"; "Hey Nineteen"; and of course, "FM") — Steely Dan's work held a far more slippery substance, both instrumentally and lyrically, that simmered and squirmed inside that lacquered shell of crisp studio perfection. Maybe that's why, to return to the box set and Chris Willman's liner notes, they were aptly referred to as "pop guerrillas." 
Or, to switch metaphors (hey, why not?) and put it another way, to me, listening to the Dan's music was (and remains) something like contemplating the smooth, glass-like surface of newly minted ice on a pristine winter's day: At first it seems invitingly benign and safe to skate across with speed, freedom, and exhilaration. But once you step onto it, barely discernible hairline fissures appear and tiny cracks you never noticed soon give way, plunging you to colder depths previously unseen. The difference with the Dan is, you don't mind your predicament one bit.
You've got to wonder if, back when they were making the now-classic albums whose music was on reverential display at the posh Wang Theatre last night, Steely Dan would have snickered at all this.
"All this'' being, of course, the supremely sardonic, archly cool rock band's Shuffle Diplomacy tour, in which it is showcasing specific albums, eras, and selected hits in an upscale array of  opulent, settings (last evening, it was a "Dawn Of The Dan'' set highlighting its first three records).
For a group whose founders (and only permanent members), Walter Becker and Donald
Fagen, seemed to barely tolerate (OK, loathe) touring during the band's 1970s heyday, the
Dan has certainly done a lot of it since the pair revived their songwriting partnership
and took their act back on the road in the early 1990s.
Then again, headlining elegant ballrooms as enigmatic icons, rather than being booked into noisy auditoriums opening for Bread, is, one would think, more tempting. As was also made abundantly clear during the show, being able to bring a coterie of virtuosos along to breathe vibrant life into once-hermetically sealed studio classics like "Rikki Don't Lose That Number'' certainly has its upside.
The eight-piece Miles High Big Band (plus three female vocalists dubbed Embassy Brats), proved a muscular complement to Becker's and Fagen's wry odes to compromise and aging ("Reelin' In The Years''); spectacular self-destruction ("Do It Again''); and hollow self-absorption ("Show Biz Kids''). There was rueful but playful nostalgia ("My Old School''), and always, the dark humor and snarky spirit lurking under that magnificent – and deceptive – surface sheen.
The hall was half-full, but the devoted were many, and the Dan delivered over the course of a two-hour-plus show, hot off of a seven-night stand in New York. With his dry, acerbic sneer, strained at times, but unmistakably his own instrument, Fagen led the charge through the laconically jazzy "Your Gold Teeth,'' accented by his cool electric piano, while Becker supplied tasteful, and tasty, electric guitar throughout.
Fagen and Co. was more than aided and abetted by the sensational work of lead guitarist Jon Herington on showy highlights like a supple, stealthy "Black Friday.''
True, it was only Wednesday. But workouts like "Kid Charlemagne'' made it feel like the weekend. And there was, for the record, no snickering (OK, maybe a little). Just well-earned cheers.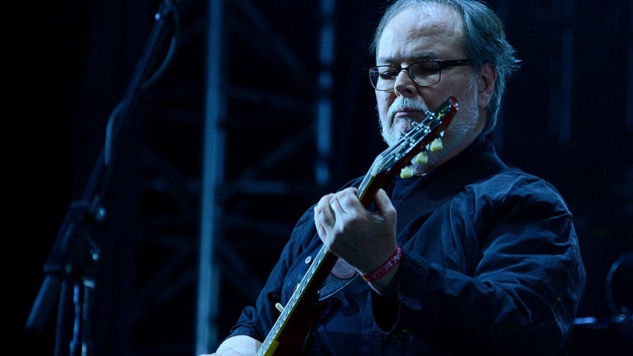 Here's the link to my review as published and as it appeared in The Boston Globe: http://www.bostonglobe.com/arts/music/2011/09/29/steely-dan-delivers-updated-take-classics/ycBM1rPhSesshauhUxorsI/story.html?event=event25
Steely Dan's official website is a veritable rabbit hole of fact, fiction, and something in between: http://steelydan.com/index.html
Oh, we always do:
"Learn to work the saxophone, I play just what I feel / Drink scotch whiskey all night long, and die behind the wheel / They got a name for the winners in the world, I want a name when I lose / They call Alabama the Crimson Tide / Call me Deacon Blues …" Maybe my favorite Steely Dan lyrics and track (but so many to choose from):
Right Said Dan was too sexy for their shirts:
No static at all: